RealEstateRama
HELP USA, BUFFALO MAYOR, STATE HCR, AND PARTNERS HOLD GROUNDBREAKING CEREMONY FOR HELP BUFFALO II APARTMENTS TO PROVIDE AFFORDABLE HOUSING FOR LOW-INCOME FAMILIES, VETERANS
HELP USA, BUFFALO MAYOR, STATE HCR, AND PARTNERS HOLD GROUNDBREAKING CEREMONY FOR HELP BUFFALO II APARTMENTS TO PROVIDE AFFORDABLE HOUSING FOR LOW-INCOME FAMILIES, VETERANS
New York, NY – October 20, 2016 – (RealEstateRama) — HELP USA and Buffalo Mayor Byron Brown, today were joined by New York State Homes and Community Renewal (HCR) and the Office of Temporary Disability Assistance (OTDA), and partners to announce construction of 47 units of affordable housing for low income families and formerly homeless veterans in Buffalo.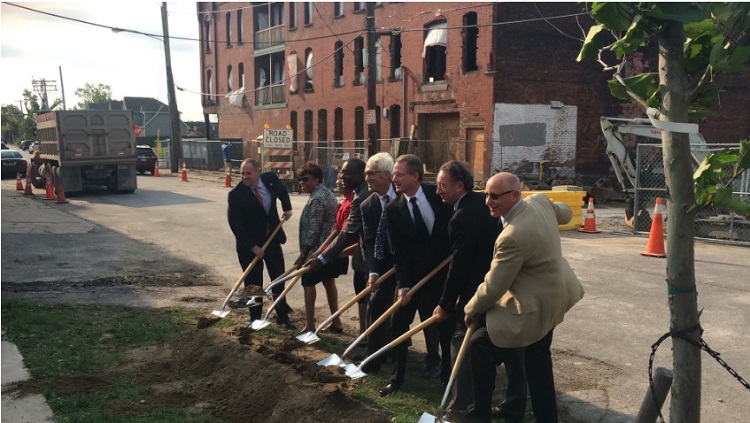 The $13 million HELP Buffalo II, at 366 Broadway, consists of two new buildings and renovation of an historic three-story building, near downtown, that will be accessible to several bus lines and rail transit. Construction is expected to be completed by mid-2017.
HCR Commissioner James S. Rubin said: "This is another concrete example of the Governor's commitment to providing opportunities to low-income families and veterans to whom we owe so much. Lives will be changed for the better at HELP II Buffalo and that will contribute to the ongoing revitalization of the 'City of Good Neighbors.' Governor Cuomo has an aggressive $20 billion agenda to combat homelessness and expand access to affordable housing across the State. A collaborative effort like this, which features on-site supportive services, has been proven to be a success and is being replicated around New York."
The new space will be HELP USA's second site in Buffalo and is across from its Hickory Street Apartments for formerly homeless single men. HELP II Buffalo will consist of one-, two- and three bedroom apartments, with 15 units for formerly homeless veterans. Amenities include a community room with warming kitchen, onsite laundry and parking, children's playground and outdoor garden space. A full array of social services will be provided by the Matt Urban Center, including integrated health care, counseling, employment and youth services delivered by community partners in dedicated spaces.
The project is being funded by a $1.9 million grant from HCR's Housing Trust Fund Corporation and $743,700 in Low Income Housing Tax Credits that will produce more than $7.4 million in equity for the project. The development will receive $1.7 million from OTDA's Homeless Housing and Assistance Program; $750,000 in HOME funds from the Buffalo Urban Renewal Agency; a $47,000 grant from the New York State Energy Research and Development Authority as well as funding from the Citi Foundation, Federal Home Loan Bank of New York and HELP USA.
OTDA Commissioner Samuel D. Roberts said, "Today's event further symbolizes Governor Cuomo's commitment to provide supportive housing. We recognize the sacrifices made by our veterans and we are committed to making sure they have a safe, affordable place to live where they can easily access individualized services to help address their needs, including employment and self-sufficiency services."
HELP USA President and CEO Tom Hameline said: "Today's announcement speaks volumes about the value of partnerships to tackle the ills of poverty. Housing is a first step to a better life, so we are committed to providing safe, secure homes for homeless veterans and low-income families. Our progress here is a testament to the dedication of our partners across our city and state, but also reflects our broader mission to meet the needs of the underserved not only in Western New York but at our more than 50 programs across the country."
David Cleghorn, Senior Vice President of Real Estate Development for HELP USA, said: "This development marks a significant step for us in Buffalo, representing the second site in which HELP USA is providing permanent housing for veterans and low-income individuals and families. The site is in the heart of a wonderful neighborhood steeped in history and architectural character. We are gratified to step in to redevelop a long-neglected building into a place that will change so many lives for the better."
Buffalo Mayor Byron Brown said: "As we continue to enhance the City of Buffalo's offerings to attract visitors, businesses and new residents, we're also working together to meet the needs of current residents, including our seniors and veterans, while breathing new life into historic buildings. Through this spirit of collaboration, we're converting an historic building into new affordable housing, ensuring the creation of good, high quality and affordable apartments for Buffalo families. This public-private partnership with HELP USA, the City of Buffalo and NYS agencies and other partners is just the most recent example of a number of new initiatives that support the continued creation of new, quality, affordable housing on Buffalo's east side and in neighborhoods citywide."
New York State Senator Timothy M. Kennedy said: "I can't begin to tell you how heartwarming this is. There are many individuals in our community that need help. There are many individuals in our community that are needy, and this extraordinary project, a $12.9 million investment right on Broadway in heart of the City of Buffalo, is going to help some of the neediest individuals and families in our community and help returning veterans in the City of Buffalo."
Buffalo Municipal Housing Authority Director Dawn Sanders-Garrett said: "We are in the business of helping people every day. Today is a celebration an opportunity for 15 homeless veterans to be able to be housed in a building, that is going to provide adequate support services."
Willert Park Village Community Association Chair Ruth Bryant said: "We welcome you back again, we like seeing development."
About HELP USA
HELP USA is one of the nation's largest homeless service providers and low-income housing developers serving at-risk populations including families, veterans, and victims of domestic violence. HELP USA currently serves more than 8,000 people every day at over 50 programs and residences across four states. Founded in 1986, HELP USA has served more than 375,000 men, women, and children and provides over 3,500 units of permanent and transitional housing.