RealEstateRama
Lexington Realty Trust Announces Formation of Co-Investment Program For Its Specialty-Use Real Estate Assets
Lexington Realty Trust Announces Formation of Co-Investment Program For Its Specialty-Use Real Estate Assets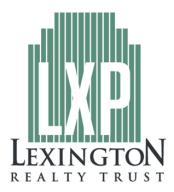 NEW YORK, Aug. 13 /PRNewswire-FirstCall/ — Lexington Realty Trust ("Lexington") (NYSE: LXP), a real estate investment trust (REIT) focused on single-tenant real estate investments, today announced that The Lexington Master Limited Partnership has formed a co-investment program, with another real estate investment company, to invest in specialty single-tenant net leased assets in the United States.
The co-investment program is under contract to acquire 53 primarily single-tenant net leased assets from Lexington and its subsidiaries for an aggregate purchase price of $940.0 million (including the assumption of non- recourse first mortgage financing secured by certain of the assets). The properties contain an aggregate of more than eight million net rentable square feet, and are located in 28 states. In addition to the 53 assets under contract, the Lexington Master Limited Partnership and its co-investor intend to invest $22.5 million and $127.5 million, respectively, in the co-investment program to acquire additional specialty single-tenant net leased assets. Assuming mortgage financing of 70% of acquisition cost, the joint venture will acquire up to $1.4 billion of property.
The sale of each of the 53 assets by Lexington and its subsidiaries and the purchase by the co-investment program is subject to satisfaction of conditions precedent to closing, including obtaining financing on certain terms, obtaining certain consents and waivers, the continuing financial solvency of the tenants and certain other customary conditions. Accordingly, Lexington cannot provide any assurance that the sales by it and its subsidiaries and the acquisition by the co-investment program will be completed.
Comments from Management
Michael L. Ashner, Executive Chairman of Lexington Realty Trust added, "We look forward to developing this co-investment program and are excited by the new relationship."
T. Wilson Eglin, President and Chief Executive Officer of Lexington Realty Trust stated, "We believe that the capital committed to this co-investment program will allow us to pursue additional growth opportunities that will benefit our shareholders in the near and far term while generating attractive returns. In addition, the transaction is expected to generate significant capital to redeploy into other investment opportunities."
ABOUT LEXINGTON REALTY TRUST
Lexington Realty Trust is a real estate investment trust that owns, invests in, and manages office, industrial and retail properties net-leased to major corporations throughout the United States and provides investment advisory and asset management services to investors in the net lease area. Lexington shares are traded on the New York Stock Exchange under the symbol "LXP". Additional information about Lexington is available on-line at www.lxp.com or by contacting Lexington Realty Trust, Investor Relations, One Penn Plaza, Suite 4015, New York, New York 10119-4015.
SOURCE Lexington Realty Trust