RealEstateRama
Ulster County Executive Mike Hein's Proposed 2017 County Budget Once Again Reduces Property Taxes
Ulster County Executive Mike Hein's Proposed 2017 County Budget Once Again Reduces Property Taxes
The County Executive's Ongoing Commitment To Protect Property Taxpayers Continues While Residents Enjoy The Provision Of More Services Than Ever Before
Kingston, N.Y. – (RealEstateRama) — Ulster County Executive Mike Hein chose a vacant classroom in the County-owned Business Resource Center (BRC) to deliver his 2017 Executive Budget.  The proposed spending plan calls for reducing the tax burden and protecting property taxpayers again this year yet maintains essential services and continues unprecedented investment in the County's infrastructure.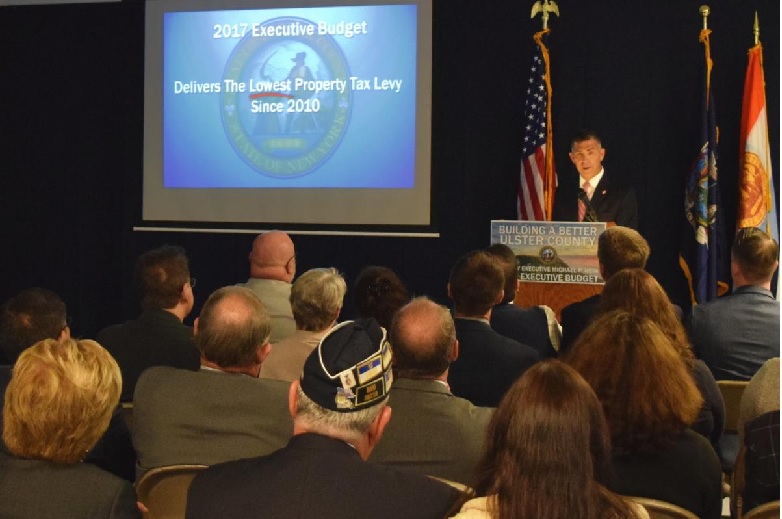 The location of the budget presentation was chosen to allow the public an opportunity to see the vacant space available at the BRC that could be utilized as the new Family Court facility before the November public referendum that seeks the public's approval to move the court from its current location.
The highlights of the County Executive's 2017 $325 million proposed budget include:
Property Tax Relief
Ulster County property taxpayers will see their tax bills go down again this year under County Executive Hein's 2017 Budget.  The .25% reduction represents an almost $200,000 decrease in the tax levy which is now lower than it was in 2010.
Infrastructure Investment
The County Executive has earmarked an additional $15 million to supplement the highly successful and unprecedented "Building A Better Ulster County" program to continue to repair and replace the County's aging infrastructure while simultaneously improving safety with wider shoulders and improved pedestrian access.  In 2015 and so far this year, the County has paved a total of over 163 miles of roads, almost 40% of all county roads, and this additional investment will continue to rebuild the County's roads and bridges and brings the three year total to $46 million.
Environmental Stewardship
The 2017 Executive Budget continues Ulster County's role as the most environmentally friendly county in New York State as it is the only county in the state to be net carbon neutral and the only county to attain Bronze Level Certification as a Climate Smart Community.  Six additional electric vehicle charging stations will be installed and that will support the growing number of alternative fuel vehicles in the county fleet.  The County will add 11 plug-in hybrid vehicles to the fleet which means it has achieved the County Legislature's Green Fleet Compliance goal a full three years ahead of schedule.
Relief For The City of Kingston and Towns
In 2017 the County will complete its three year takeover from the City of Kingston and the towns of the costs associated with the Help America Vote Act (HAVA).  Aimed at reducing the local tax burden placed on County residents from unfunded state mandates, this takeover plan reduces the fiscal burden on the municipalities by approximately $555,211 in 2017.  These savings are in addition to the previous HAVA and Safety Net expenses that the County assumed from the City and towns that total $29.2 million over the last 5 years.
Education
The County Executive recognizes that education in today's world is a necessity not a want, and it is a critical component to allow everyone access to the American Dream.  The 2017 Executive Budget provides $6.4 million in operating assistance to SUNY Ulster which ranks Ulster County in the top 4 counties in New York State.
Family Court Relocation
Ulster County is under a mandate from the New York State Office of Court Administration to expand and update its Family Court facilities.  In order to avoid a potential $20-30 million cost to taxpayers which would be incurred by constructing a new building to house Family Court, the County Executive supports moving the court facilities to the County-owned BRC which previously hosted classroom space for SUNY Ulster but is now vacant.  This is in agreement with a previous overwhelming vote of the County Legislature.  Although the new location is less than a mile from the current one, the public will be asked to approve the move during a November referendum since the new location is 800 feet beyond the City of Kingston boundary.
The 2017 Executive Budget was able to accomplish all of these initiatives in spite of being developed in an environment that included an anticipated 20%, or $4.5 million, increase in County healthcare costs and a reduction in some traditional revenues such as the boarding of out-of-county inmates at the Ulster County Jail, which has declined from $1.7 million in 2014 and is anticipated to be only $197,000 in 2017.  These challenges were able to be met through innovation, streamlining government, an aggressive position management plan that includes a targeted retirement incentive, strategic operational and programmatic reforms, and responsible prioritized spending.
Ulster County Executive Mike Hein
"The 2017 Executive Budget makes it clear that everyone in County government is responsible to the taxpayers," said Ulster County Executive Mike Hein.  "Our residents deserve high quality services, new and improved roads and bridges and should expect County government to do the most with their tax dollars.  This budget reduces property taxes again and I am proud to say that the tax levy will now be less than it was in 2010 while we continue to provide more services than ever before, make unprecedented infrastructure investments, while also providing for our Veterans, Seniors and those most vulnerable.  I want to thank our partners in county government who appreciated the fiscal challenges we face and made difficult cuts to this budget, and I look forward to working with the County Legislature to ensure this budget is passed swiftly in order to continue to protect our hard-working residents."
"This budget also continues to provide funding for not-for-profit service providers who affect the lives of thousands of Ulster County residents every year," continued the County Executive.  "In order to pay for these important services, the County's anticipated revenues must remain intact, including sales tax collection.  The County is scheduled to seek approval from the state for its current sales tax rate this year.  Although we anticipate a smooth extension, we have seen the effects disruption in the process causes and the last time it cost the County, City of Kingston and the towns $5.4 million that is why it would be irresponsible to ignore the possibility of it occurring again this year.  Therefore, we have devised a proactive plan that will fund our contract agencies quarterly, and in the unlikely event that June passes without the state approving our extension request, fourth quarter funding to these agencies will be suspended.  This approach alerts everyone well in advance of the possible ramifications and allows time to develop contingent plans, and it insulates and protects our property taxpayers."
Kenneth J. Ronk, Jr., Chairman of the Ulster County Legislature
"I'm proud to partner with County Executive Hein on the 2017 Budget proposal which reduces the property tax levy by .25% while still providing access to essential services and critical investment in our infrastructure," said Kenneth J. Ronk, Jr., Chairman of the Ulster County Legislature.  "This Budget is good for our residents, our local businesses and the economy overall."
Hector Rodriguez, Minority Leader of the Ulster County Legislature
"We have to begin our legislative review but County Executive Hein's proposed Budget has once again embraced structural reform and reduces taxes," said Hector Rodriguez, Minority Leader of the Ulster County Legislature.  "I look forward to finalizing this budget with my colleagues and I appreciate all that the County Executive has done to successfully manage the budget."
For 2017 Executive Budget Documents please visit: http://ulstercountyny.gov/budget/.