RealEstateRama
Yonkers Groundbreaking for 149 New Affordable Rental Apartments
Yonkers Groundbreaking for 149 New Affordable Rental Apartments
Albany, NY – July 13, 2010 – (RealEstateRama) — Michael Skrebutenas, Executive Deputy Commissioner of the NYS Division of Housing and Community Renewal, joined Yonkers Mayor Philip A. Amicone and other state and local officials at a groundbreaking Wednesday, July 7, for two affordable rental projects to be located at the site of the historic Mulford Gardens Public Housing Complex in Yonkers.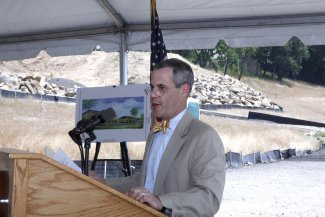 Both Grant Park at Croton Heights, a $45.5 million, 100-unit affordable apartment building, and Park Terrace at Croton Heights, a $19.1 million, 49-unit senior rental apartment, received substantial financial support from "nyhomes" and DHCR. This financial support is an example of the increasing cooperation between the state's two housing agencies as they continue to integrate their management structure.
Skrebutenas said, "Today, we mark the transformation of the first public housing complex in Yonkers and one of the oldest in the country. Together, Grant Park and Park Terrace will provide 149 affordable, energy-efficient apartments. The HOPE VI Revitalization Plan and the City's Urban Renewal Plan for Ashburton Avenue are increasing access to quality housing and at the same time, making Yonkers a better place to live."
The projects were developed by the Yonkers Municipal Housing Authority, which is led by former Assistant Secretary of HUD Joseph Shuldiner, in conjunction with The Richman Group Development Corporation and Landex Development, LLC, and will be managed by Rental Housing Management Partnership.
Both Grant Park and Park Terrace received an allocation from the Federal Tax Credit Assistance Program (TCAP), which was created by the Federal stimulus bill in 2009 to help finance affordable rental projects. Grant Park received $6.4 million in TCAP funds while Park Terrace more than $2.75 million.
Grant Park was funded with $24.2 million in financing from the NYS Housing Finance Agency along with federal and local loans. Grant Park is the first section of a planned 240-unit community on the old Mulford site.
Park Terrace was funded with State Low-Income Tax Credits along with county and local funds. It is the second phase of Yonkers' HOPE VI Revitalization Plan.
To help keep the apartments affordable, the Yonkers IDA approved incentives for the developer, including a real property tax agreement, mortgage tax exemptions, and sales and uses tax exemptions for construction.