RealEstateRama
176-Unit Affordable Development in Albany Gets Major Makeover
176-Unit Affordable Development in Albany Gets Major Makeover
Albany, NY – May 19, 2010 – (RealEstateRama) — Ezra Prentice Homes in Albany's South End neighborhood is undergoing a major rehabilitation that will make the more than 40-year old apartments safer and more energy-efficient, and preserve affordable housing for the next generation.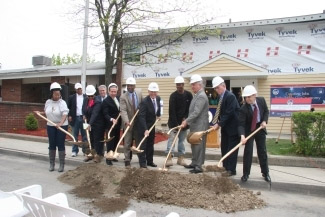 DHCR Executive Deputy Commissioner Mike Skrebutenas joined Congressman Paul Tonko, U.S. Department of Housing & Urban Development Deputy Secretary Ron Sims, Mayor Gerald Jennings, Albany Housing Authority Executive Director Steven T. Longo, Albany County Executive Mike Breslin; and city and state officials recently at a Groundbreaking ceremony to kick-off the makeover, which includes both interior and exterior improvements and energy-saving measures.
Financing for the $27-million redevelopment includes funds through the DHCR-administered federal Tax Credit Assistance Program (TCAP), Low Income Housing Tax Credits, Fannie Mae tax exempt loans, a bridge loan, and equity investment of tax credit proceeds from PNC Bank.
Brian Lawlor, Commissioner of DHCR and CEO/President of nyhomes said that Tax Credit Assistance Program grants through the American Recovery and Reinvestment Act are an important element of the financing package, helping to jumpstart work at Ezra Prentice that had been stalled by the economic downturn. "Congratulations to the Albany Housing Authority, Mayor Jennings and the City of Albany, and to all the partners that came together to make this rehabilitation possible. The substantial improvements at Ezra Prentice will make the 176 housing units safer and more energy efficient, add to the quality of life in Albany's South End, and help keep this development affordable for years to come."
U.S. Department of Housing & Urban Development Deputy Secretary Ron Sims said, "HUD is proud to join with the State of New York, the City of Albany and the Albany Housing Authority to preserve affordable housing for hundreds of families well into the future. The ARRA grant will help extend the life of desirable affordable housing in the city, and it will also create a significant number of jobs in the community. This is consistent with HUD's mission, which is to invest in people as well as buildings."
Mayor Gerald Jennings said, "It is developments such as Ezra Prentice that make it possible for the residents of Albany to have options for safe, affordable and quality housing. Neighborhoods such as the South End are the fabric of our great City, and the revitalization efforts that are taking place in this community are evidence that our neighborhoods can be rebuilt and brought to life once again. "
Ezra Prentice consists of 24 one-bedroom, 89 two-bedroom, 58 three-bedroom and 5 four-bedroom apartments. Monthly rents range from $423 to $571, according to family income and units are rented to families with incomes at or below 60% of the area median income. The majority of units will be re-leased to former Ezra residents, but interested families can apply for apartments at the Albany Housing Authority offices.
All 176 units are expected to be completed by early spring 2011.