BROADWAY PARTNERS ANNOUNCES 120,000 SF LEASE
Strong Leasing Momentum Continues at Midtown Manhattan Office Tower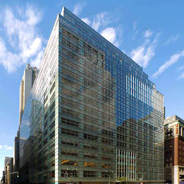 New York, NY, February 6, 2008 – Broadway Partners, a national private real estate investment and management firm headquartered in New York, has inked an 11-year, 120,000-square-foot lease at 340 Madison Avenue. The lease transaction will bring Fortune 500 technology company SunGard to the property, which is now nearly 80 percent occupied.
The lease is the latest positive development for Broadway Partners since the firm purchased 340 Madison Avenue in November 2006 on behalf of its Broadway Partners Value-Added Fund II, which targets value-added opportunities in the office sector in primary North American markets. Since the acquisition, the firm has succeeded in steadily increasing both occupancy and rents.
When purchased, the property was slightly more than 40 percent occupied, according to the firm. In 2007 a mid-rise floor of "pre-builts" was leased. Most of the high-rise portion of the building was filled through a long-term lease for approximately 100,000 square feet signed with National Financial Partners. In addition, several existing tenants have expanded.
The newest tenant will occupy three full floors within the mid-rise. According to Greg Green, Broadway's National Director of Leasing, the company was looking to consolidate several New York City locations, and is known to have considered various Class A buildings throughout Downtown and Midtown.
Green commented, "In the end, 340 Madison was a clear best choice, due to its strong image and location, which aligns well with what the company projects for purposes of recruitment and business marketing. The deal came together at breakneck speed, with property tours, leasing terms, and final negotiations taking shape over the course of just one month."
Jeffery E. Mack of GVA Smith Mack and Michael R. Ippolito of Newmark Knight Frank represented SunGard.
340 Madison Avenue is a 22-story, 748,000 sq ft Class-A office building located one block from Grand Central Station and spans the entire westerly Madison Avenue blockfront between 43rd and 44th Streets. Originally built in 1928 and completely redeveloped in 2006, the property is ideally situated in the center of Midtown Manhattan, the commercial center of New York City and home to the highest concentration of Fortune 500 firms, corporate headquarters, law firms, and financial firms in the nation. Major tenants include McDermott Will & Emery, Coach, Massachusetts Mutual Life Insurance, National Financial Partners, Nuveen, and the United States Office of the Comptroller of the Currency. The property, which includes over 400 feet of retail frontage at a prime retail location, is one of the area's signature buildings and represents some of the most highly desirable space in the Grand Central submarket.