RealEstateRama
Canal Village Apartments will help Revitalize Rome Neighborhood
Canal Village Apartments will help Revitalize Rome Neighborhood
Albany, NY – June 22, 2009 – (RealEstateRama) – Commissioner VanAmerongen was on hand recently to celebrate the groundbreaking of Canal Village Apartments in the City of Rome. The development of eleven buildings with 33 affordable housing units is the first step of a major revitalization effort of the South Rome neighborhood.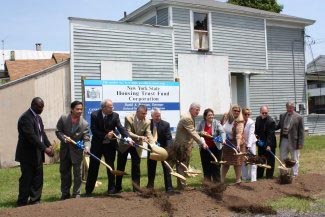 Housing Visions Consultants, Inc. will substantially rehabilitate three buildings, demolish three others, and construct eight new buildings. Five units will provide housing and support services for veterans at risk of homelessness, and six units will be reserved for people with disabilities, including two units that will be fully accessible for people with vision or hearing impairments.
DHCR provided more than $2.7 million in financing through the New York State HOME program and federal Low Income Housing Tax Credit program. Gross rents (rent plus utilities) will range from $481 to $778 per month and will be affordable to households with incomes at or below 60 percent of Area Median Income. Canal Village will feature a children's play area, community room with an Energy Star laundry facility, washer and dryer hook-ups, central air conditioning, water conserving fixtures, and Energy Star appliances.
Commissioner VanAmerongen said, "Canal Village will not only provide quality, affordable housing for Rome families, it will go a long way towards revitalizing the entire South James Street area. Affordable housing developments like Canal Village can significantly improve the housing stock in neighborhoods, making them safer and more attractive places for people to live and visit, and for businesses to provide the services and opportunities that communities count on."
Assemblywoman RoAnn Destito said, "A project of this magnitude is going to bring about some very noticeable and positive change to the entire Rome area. One of the most important quality of life assets in any community is its housing stock. Canal Village is going to add 33 units of affordable housing, turning what was an underutilized block of South James Street into a real neighborhood."
Mayor James Brown said, "We are excited about the opportunity that this public-private partnership provides the City of Rome and most importantly our residents. First and foremost, the project will provide affordable, quality homes for individuals who often have difficulty obtaining good housing."
Kenyon M. Craig, President of Housing Visions Consultants, Inc. said, "The Canal Village development will transform the area and significantly improve the quality of life for the residents in the South Rome neighborhood."