RealEstateRama
Commissioner joins Governor and Mayor Bloomberg to Announce Nation's First Housing Project to Use TCAP Funds
Commissioner joins Governor and Mayor Bloomberg to Announce Nation's First Housing Project to Use TCAP Funds
New York, NY- August 26, 2009 – (RealEstateRama) — Commissioner VanAmerongen recently joined Governor Paterson and NYC Mayor Michael Bloomberg to announce that New York City became the first City in the nation to begin construction of new affordable housing using funds from the Tax Credit Assistance Program (TCAP).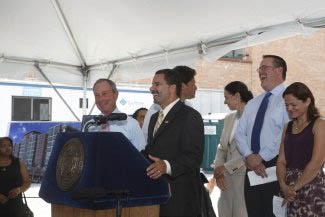 Four housing developments – three in Harlem and one in East New York – will comprise 739 units of affordable housing and their construction will provide more than 2,800 construction jobs. TCAP funds were included in federal stimulus package and are intended to jumpstart developments that had received Low Income Housing Tax Credits which were devalued by the economic downturn.
DHCR received $253 million in TCAP funding from the Department of Housing and Urban Development (HUD). DHCR then sub allocated $85 million of that total to the NYC Department of Housing Preservation and Development (HPD). The NYC agency is spending roughly $60 million of that to help finance the four developments now underway.
One of the developments is located on two separate sites in Harlem, formerly known as Metro North. On an East 102nd Street site, where the announcement took place, 12 deteriorated walkup buildings will be demolished and replaced by a nine-story building to be known as Hobbs Court. The new building will offer 259 residential apartments, community facility space and underground parking. On an East 100th Street site, five vacant six-story buildings will be substantially rehabilitated and combined into a single building to be known as The Ciena. The building will contain 81 new residential apartments, elevators and landscaped open space for the residents.
The two buildings, developed through a joint venture between Phipps Houses and Urban Builders Collaborative, will be completed in the fall of 2011. All the units in this development will be permanently affordable to households with incomes up to $46,080 for a family of four and up to $32,280 for a single person. The total development cost of the project is $143.5 million. The New York City Housing Development Corporation is contributing $21.7 million and a loan of $71.4 million for the construction of the project, supported with a letter of credit provided by JPMorgan Chase and Bank of New York Mellon. In addition, JPMorgan Chase, acting through a placement by Richman Housing Resources, will invest $38.8 million in Low Income Housing Tax Credit equity to pay down the construction loan at permanent conversion. Phipps Houses will invest $1.9 million of its own funds as equity and will advance $700,000 provided by the New York State Energy Research and Development Authority to make energy-saving enhancements.