New Plan Unveiled for South Street Seaport Pier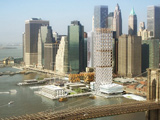 A new vision for Pier 17 was unveiled this week by South Street Seaport owner General Growth Properties. The company announced its plans to demolish the three-story mall that currently occupies the pier and replace it with open space, new retail buildings, and a 42-story hotel and residential tower.
The announcement follows years of planning and community research by General Growth, which aims to transform the tourist-heavy South Street Seaport into a new downtown destination on the East River. Designed by SHoP Architects, the revamped Pier 17 will tie into the city's own East River Waterfront improvements, unveiled in 2005 and also designed by SHoP.
Design plans for the pier focus on expanding open space and direct access to the waterfront. Five acres of plazas would be created over the water in part by preserving and relocating the landmark Tin Building — the former fish-market import building now wedged beside the FDR overpass — to the pier's eastern edge.
The 495-foot-tall hotel and condominium tower planned for the pier's north side lies outside the designated historic district. It was designed to be only 78 feet wide along the shoreline to minimize obstruction of harbor and Brooklyn Bridge views. South of the tower would be four retail structures, each free-standing to create pedestrian "streets" extended from the downtown street grid. A six-story boutique hotel is planned to sit atop the retail structures.
While the proposal still needs city and state approval, General Growth is working with the city to begin the land-use, landmark, and other regulatory approvals process. No date has yet been projected for the start of construction at the site.