RealEstateRama
Rocky Glen Helps Fill Affordable Housing Need in Dutchess County
Rocky Glen Helps Fill Affordable Housing Need in Dutchess County
Albany, NY – July 21, 2010 – (RealEstateRama) — The Views at Rocky Glen in the Town of Fishkill officially opened recently when DHCR Assistant Commissioner Lynn Kopka joined local officials, residents, the Community Preservation Corporation, and Ken and Larry Regan of Regan Development to cut the ribbon and welcome residents to their new, affordable homes.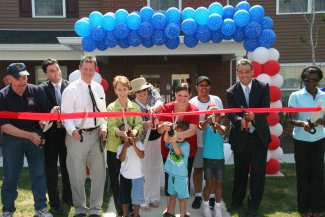 The $18.6 million development provides 82 one, two and three-bedroom apartments and helps meet the area's need for quality, affordable housing that allows local workers to live near their employment.
The affordable rents are made possible through a $2.5 million Housing Trust Fund loan, as well as federal Low Income Housing Tax Credits administered by DHCR. The Community Preservation Corporation provided a construction loan in the amount of $11.5 million, and a permanent loan of $5.1 million. WNC & Associates, a national leader in the syndication of tax credit investment, is providing equity investment in the complex of over $9.7 million to help keep debt down and allow lower rents.
Brian Lawlor, Commissioner of DHCR and President/CEO of "nyhomes" said, "The Views at Rocky Glen is an exceptional development that will provide comfortable and safe affordable housing for working families in Dutchess County. This project also demonstrates the importance of forming partnerships between the public and private sectors. We have worked with Regan Development in the past and this property is another example of their commitment to creating quality developments that improve the lives of residents. I'd like to thank and congratulate our partners, including the Regans, the Town of Fishkill, Community Preservation Corporation and WNC & Associates."
Developer Larry Regan said, "We are proud to bring these superior quality affordable apartments to the workforce here in Dutchess County. The apartments are beautiful and new, with ample storage space and amenities. We know that our market demands high quality and value, and that is what the project delivers."
All apartments are equipped with Energy Star rated appliances and light fixtures and central air-conditioning. The development qualifies under DHCR's Green Building Initiative. Each unit has wall-to-wall carpeting, new appliances, and pre-wiring for telephone and cable television. The complex has a community space for clubs, meetings and social events, recreational space for children, and on-site laundry facilities. Additionally, 14 of the apartments are specially set aside for people with disabilities.
The gross rents (rent plus utilities) range from $573 to $1,239 and are affordable to households with incomes at or below 80% of the area median.