RealEstateRama
THOMPSON AND NEW YORK CITY PENSION FUNDS ANNOUNCE EFFORT TO PROTECT AFFORDABLE HOUSING
THOMPSON AND NEW YORK CITY PENSION FUNDS ANNOUNCE EFFORT TO PROTECT AFFORDABLE HOUSING
New York City Comptroller William C. Thompson, Jr. and the New York City Pension Funds joined with other elected officials and housing advocates today to announce a real estate investment principle to allow the City to "opt out" of any future deals that could negatively impact opportunities to create or retain affordable housing.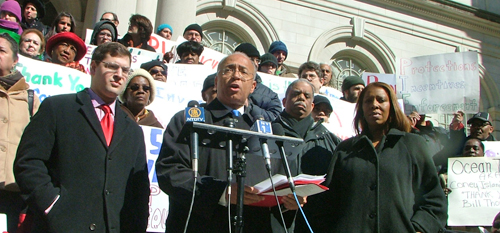 "We must all work together to maximize protection and affordability for tenants in both existing and future investments," Thompson said. "With today's announcement we are strengthening our commitment to invest in affordable housing by creating an opportunity to decline investments that could negatively affect affordability."
This commitment will enable the New York City Pension Funds to respond to a problem that affordable housing and tenant advocates have identified as "predatory equity;" the practice of making speculative investments in rental housing, especially subsidized and formerly subsidized housing, that is occupied by low-income people, where the investment can only yield the anticipated returns if the low-income tenant population is replaced by a group that can afford significantly higher rents.
"We must do what we can to ensure that New York City remains affordable to all. I am glad to have worked with the Comptroller's Office and housing advocates to find a solution that protects affordable housing while the New York City Pension Funds consider their members' interests.  I fully support any effort to preserve low- and moderate-income housing for tenants," said City Council Member Letitia James.
"In recent years, we've seen development after development of Mitchell-Lama and other affordable housing, sold for prices that we couldn't even have imagined a few years ago," said Maggie Russell-Ciardi, Executive Director of the New York State Tenants & Neighbors Coalition. "These buyers are taking big risks on the hope that they will soon have a new, high-income tenant population. We don't like the speculative nature of these deals, and we really don't like what it means for low- and moderate-income tenants. We are very happy to see Comptroller Thompson and the Pension Funds doing their part to move away from this trend."
"I live in a Mitchell-Lama building that has attracted the attention of the predatory equity speculators," said Shelia Boyd, President of the tenant association at the Ocean Towers Apartment Complex, a former Mitchell-Lama complex located in Coney Island. "I'm glad to know that it just got a little bit harder for them to raise the money to buy out my home."
The Pension Funds have assets totaling more than $110 billion, with $1.8 billion invested in commercial and residential real estate. During Comptroller Thompson's tenure, real estate was adopted as an asset class and now includes 36 discrete investments that are diversified by investment style sector, manager, property type and geographic region. Many of the real estate investment funds selected for investment target New York City as part of their policy where the Pension Funds have invested $105 million (over 15,000 units) in residential properties.
This investment activity is in addition to Economically Targeted Investments, which aim to improve and create low-, moderate- and middle-income housing, to revitalize neighborhoods by returning distressed properties to the tax rolls, to build new housing that is affordable to working people, and to create jobs. The Pension Funds have $575.9 million invested in Economically Targeted Investments.
"The Pension Funds have been able to combine their commitments to producing strong returns on their investments for New York City retirees, and protecting and creating affordable housing for New Yorkers," said Thompson. "It is the fiduciary duty of the Pension Funds to pursue investments that deliver appropriate risk-adjusted returns. To date, the Pension Funds have successfully accomplished both objectives and will endeavor to work with others to increase the City's affordable housing stock."
After months of work with housing advocates, the Pension Funds have expanded their commitment to the preservation and creation of affordable housing in the City by enacting a residential real estate investment principle that includes:
Engaging building management to ensure fair treatment of tenants, especially in instances when ownership changes;
Creating an "investment opt-out," under which the Pension Funds can decline investing in individual properties that might adversely affect tenants and affordability; and,
Encouraging new affordable housing opportunities to be presented to the Pension Funds in response to their open RFP for Economically Targeted Investment (ETI) Programs, which would protect and preserve the affordability of buildings. ETI objectives are to provide the Funds a market rate of return that is commensurate with the risk assumed, to fill capital gaps in New York City, and to provide specific quantitative or qualitative benefits to New York City and, in particular, its low-, moderate- and middle-income communities and populations.
"Comptroller Thompson is sending a hugely important message to the speculative real-estate investment community by refusing to invest in deals that are poorly underwritten and which rely on the displacement of low-income families in order to succeed," said Dina Levy of the Urban Homesteading Assistance Board. "We hope other institutional investors will follow his lead."
The New York City Pension Funds are New York City Employees' Retirement System (NYCERS), Teachers' Retirement System of the City of New York (TRS), New York City Police Pension Fund, New York City Fire Department Pension Fund and the New York City Board of Education Retirement System (BERS).
"Once again, the investment powers of the Funds are being put to good use in addition to maximizing returns," said Public Advocate and NYCERS trustee Betsy Gotbaum. "This new real estate investment principle not only helps bring landlords and developers to the table and holds them accountable, but it demonstrates the Funds' firm commitment to protecting affordable housing for low-income New Yorkers."
In addition to Thompson, the New York City Pension Funds trustees are:
New York City Fire Department Pension Fund: Mayor Michael Bloomberg; New York City Fire Commissioner Nicholas Scoppetta (Chair); New York City Finance Commissioner Martha E. Stark; Stephen Cassidy, President, James Slevin, Vice President, Robert Straub, Treasurer, and John Kelly, Brooklyn Representative and Chair, Uniformed Firefighters Association of Greater New York; Michael Currid, Captains' Rep.; John J. McDonnell , Chiefs' Rep., and Stephen J. Carbone, Lieutenants' Rep., Uniformed Fire Officers Association; and, Joseph Gagliardi, Marine Engineers Association.
New York City Police Pension Fund: Mayor Michael Bloomberg; New York City Finance Commissioner Martha E. Stark; New York City Police Commissioner Raymond Kelly (Chair); Patrick Lynch, Patrolmen's Benevolent Association; Michael Palladino, Detectives Endowment Association; Edward D. Mullins, Sergeants Benevolent Association; Thomas Drogan, Lieutenants Benevolent Association; and, Roy T. Richter, Captains Endowment Association.
New York City Employees' Retirement System: New York City Finance Commissioner Martha E. Stark (Chair); New York City Public Advocate Betsy Gotbaum; Borough Presidents Scott Stringer (Manhattan), Helen Marshall (Queens), Marty Markowitz (Brooklyn), Adolfo Carrion (Bronx), and James Molinaro (Staten Island); Lillian Roberts, Executive Director, District Council 37, AFSCME; Roger Toussaint, President Transport Workers Union Local 100; and, Gregory Floyd, President, International Brotherhood of Teamsters, Local 237.
Teachers' Retirement System: New York City Finance Commissioner Martha E. Stark (Chair); Deputy Chancellor Kathleen Grimm, New York City Department of Education; and, Sandra March, Melvyn Aaronson and Mona Romain, all of the United Federation of Teachers.
Board of Education Retirement System: mayoral appointees Schools Chancellor Joel Klein, Alan Aviles, Philip Berry, David Chang, Tino Hernandez, Edison O. Jackson, Richard Menschel and Marita Regan; Luis Peguero (Bronx), Patrick Sullivan (Manhattan), Wendy Gilgeous (Brooklyn), and Joan Correale (Staten Island); and employee members Joseph D'Amico of the IUOE Local 891 member and Milagros Rodriguez of District Council 37, Local 372.