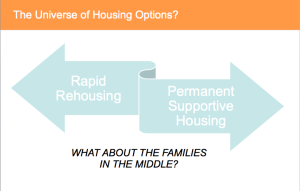 NEW YORK, NY – February 23, 2015 – (RealEstateRama) — CUCS Institute Presents at National Conference on Ending Family Homelessness. The CUCS Institute's Aaron Levitt and Martha Kenton presented at the 2015 National Conference on Ending Family Homelessness hosted by the National Alliance to End Homelessness (NAEH). Held in San Diego, CA, February 18-20, 2015, the conference focused on strategies to end family and youth homelessness, including rapid re-housing and family intervention, and included a series of workshops on developing systems for oversight of housing assistance.
Martha's presentation, "Living in Communities: The Power of Housing and Time-Limited Case Management," discussed New York City's new housing assistance program that grew out of a partnership between the Robin Hood Foundation, the NYC Department of Homeless Services, and 3 community-based organizations, including CUCS. The program is based on the Home to Stay model, which uses evidence-based practices to support chronically and episodically homeless families and to move them from shelter to permanent housing. Research showed that Home to Stay families remained stably housed longer and returned to shelter less frequently after receiving services. Because families participating in Home to Stay generally had better outcomes than families receiving traditional services, New York City has expanded the Home to Stay model and made it a critical part of the City's fight against homelessness.
As part of the same panel on serving vulnerable families, Aaron discussed targeting, prioritizing, and rationing services. Targeting refers to identifying who will benefit from a service or services, and how much. Prioritizing is about deciding who will get the service or services first. Rationing is deciding who will be denied the service or services. Aaron asserted that all service providers and all service systems do these things daily, whether we acknowledge it or not. In a situation of massive demand and limited resources, there is no other choice. The question is whether we approach decisions rationally or not. If we are not conscious or rational, we tend to target and prioritize people who we find personally appealing, and/or those who are good at filling out applications, and/or those who have high-quality case management or housing placement services. We deny services to people whose presentation is less appealing, who have trouble completing applications, and who don't have support networks or professional assistance for the process. As service providers, we have a professional and even a moral obligation to do the inevitable in a conscious, rational manner that supports our missions rather than in a way that undermines them.