RealEstateRama
NY Leads All States in Disbursement of ARRA Funds to Save Affordable Housing
NY Leads All States in Disbursement of ARRA Funds to Save Affordable Housing
Albany, NY – February 19, 2010 – (RealEstateRama) — The NYS Division of Housing and Community Renewal announced today that New York leads all other states in disbursing Tax Credit Assistance Program (TCAP) funds included in the American Recovery and Reinvestment Act (ARRA).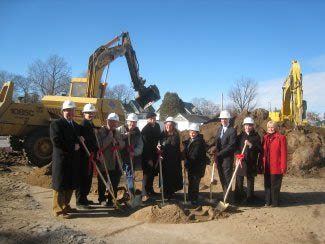 A new report from the federal Department of Housing and Urban Development (HUD) shows that New York has already disbursed more than $20 million in TCAP funds, more than any other state, and expects to finance more affordable housing units with TCAP funds than any other state.
New York has moved quickly to get dozens of affordable housing projects under contract and under construction — more than $228 million has already been committed to projects with total development costs of more than $1 billion.
Governor David A. Paterson said, "The State Division of Housing and Community Renewal is to be commended for working with its partners – nyhomes and the NYC Department of Housing Preservation and Development — to quickly and efficiently distribute TCAP funds to save so many of the affordable housing projects that had been stalled or endangered by the economic downturn. These projects will save more than 4,500 units of housing for vulnerable New Yorkers, provide thousands of jobs and pump more than one billion dollars in private investment and total development costs to local communities around the state."
HUD also reported that New York has exceeded required commitment levels set by the federal agency. HUD required that by mid-February, state agencies must have 75 percent of its TCAP funding committed to specific projects that have met federal criteria, such as having completed environmental reviews, established and complied with Davis-Bacon guidelines and entered into contracts with sub-contractors. DHCR exceeded that national standard by more than 15 percentage points.
DHCR Acting Commissioner Brian Lawlor said, "Governor Paterson was the first Governor in the nation to suggest that funding for affordable housing be included in the economic recovery package, because he understood that the downturn had stalled a number of shovel-ready affordable housing projects in New York. Thanks to his efforts, New York received $253 million in TCAP funds and DHCR, together with our partners, has been able to save 46 projects that will serve low-income families, senior citizens and people with disabilities."
The purpose of the TCAP program is to fill financing gaps created by the devaluation of Low Income Housing Tax Credits (LIHC). Before the financial downturn, the tax credits were one of the most reliable sources of equity for affordable housing projects.
However, the meltdown of the housing and financial markets caused the tax credits to lose 20 percent or more of their value, creating funding gaps for many affordable housing projects that relied on the credits.