RealEstateRama
Commissioner presents 'Elizabeth Griffin Award' to Albany Housing Authority
Commissioner presents 'Elizabeth Griffin Award' to Albany Housing Authority
Albany, NY – June 4, 2009 – (RealEstateRama) — Commissioner VanAmerongen recently presented Historic Albany Foundation's (HAF) Elizabeth P. Griffin Award for Preservation Leadership to the Albany Housing Authority for the agency's contributions to the city's historic districts, including rehabilitation of architecturally and historically significant buildings and for infill housing which incorporates appropriate historic details.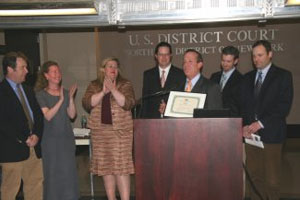 The award is named for former DHCR employee Elizabeth Griffin, who had previously served as the executive director of HAF for eight years. Commissioner VanAmerongen said that through many conversations with Griffin, she gained "a greater understanding of the importance of historic preservation in the bigger picture of community revitalization."
Commissioner VanAmerongen also noted "just how responsive and effective the Albany Housing Authority has been in addressing the needs of the city." She said the agency has "been a tremendous partner on a number of significant projects, including the revitalization and redevelopment of the South End and Arbor Hill… and we look forward to working with them in the future."
The Albany Housing Authority was established in 1948 and their first development was the Robert M. Whalen Homes located in Arbor Hill. Since then, AHA has grown to 17 developments.
Historic Albany Foundation recently celebrated 35 years as a private, not-for-profit membership organization working to promote the preservation and appreciation of the built environment in and around the city of Albany. HAF also presented their preservation merit awards in recognition of successfully restored and rehabilitated residential and commercial buildings. HAF's Executive Director, Susan Holland said, "Our award winners represent different organizations, individuals and companies that have been at the restoration game for months and perhaps, years. The projects really highlight what can be done to revitalize the city, even in the current economic climate."