Congressman Rangel Hails Funding for Energy-Efficiency Renovations on 135th Street Multi-Family Housing Project.
Washington, DC – January 25, 2010 – (RealEstateRama) — Congressman Charles Rangel was pleased to learn recently that the Obama Administration's first stimulus award for funding "green" apartment renovations will serve Northern Manhattan. The award– a $3.6 million federal housing loan to New-York based developer Jonathan Rose Companies– is part of the U.S. Department of Housing and Urban Development's (HUD) energy-efficiency renovations program for multifamily housing.
"I am very excited about this award," said Congressman Rangel.  "This renovation will not only create jobs, it will bring about a cleaner and more energy-efficient living environment, which will benefit our economy and our health.  It will also serve as a national model for energy-efficient construction and preserving affordable housing."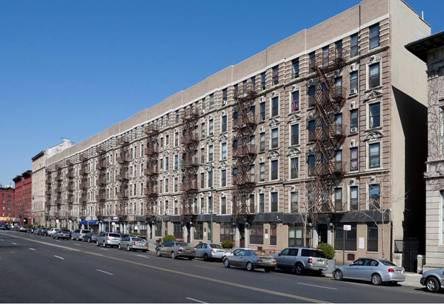 Nearly 200 apartments along 135th Street are the first to be renovated  under a energy efficiency program funded by the Department of Housing and Urban Development. (Photo courtesy of Ruggero Vanni.)
 The energy-efficient renovations, or "retrofits," would lower utility costs by approximately 25% for the 135th Street Apartments, a 198-unit, 10 building, Section 8 assisted property in Central Harlem.  Such savings will help maintain affordable living costs for Rose, whose firm last year signed a 15-year Section 8 contract extension with HUD.
"I am grateful to HUD for this loan from the Green Retrofit Program" said Jonathan Rose, CEO and Founder of Jonathan Rose Companies.  "These funds, in conjunction with City financing, will allow the project to undertake a comprehensive green capital improvement program, improving energy efficiency and the quality of tenants' lives."
HUD PLAYS CRUCIAL ROLE
Congressman Rangel thanked HUD Secretary Shaun Donovan for his leadership on the issue. 
"This critical financing will address the housing needs of the families and communities hardest hit by the economic crisis," said Congressman Rangel.  "As the former New York City Housing Commissioner, Secretary Donovan understands what this award means to places like Harlem."
Last April, Secretary Donovan served as keynote speaker of Congressman Rangel's 15th Congressional District Economic Recovery Conference. The day-long event brought together community stakeholders with federal, state, and local representatives to provide information on how to access various stimulus programs and funding sources.
"I am pleased that Secretary Donovan's message of hope and opportunity at last April's recovery event has come around full circle where, today, he can talk about the results for Harlem with this award," said Congressman Rangel.
Jonathan Rose Companies is a leading developer and advocate of green building, particularly for affordable housing. The project will provide numerous job opportunities for construction-related union positions, with HUD funding approximately half of the project's renovation costs.
PROJECT DETAILS
Retrofits to the housing development will include EnergyStar refrigerators, replacement of 32 old boilers with 10 high-efficiency boilers, rooftop solar photovoltaic panels, formaldehyde-free kitchen cabinets, recycled-material kitchen counters, EnergyStar ceiling fans, compact fluorescent lamp (CFL) fixtures and bulbs, double-pane argon-filled low emissivity (low-e) windows, insulated exterior doors, low-flow fixtures, shower heads and toilets, linoleum flooring to replace vinyl tile, wood floor installations using Forest Stewardship Council (FSC)-certified wood, and non-toxic paints, adhesives and sealants throughout.
HUD's Green Retrofit Program provides funds nationally to reduce energy costs, cut water consumption, and improve indoor air quality.  It is designed to create thousands of green jobs across the country.  Grants and loans provided through the program help owners of HUD-assisted housing projects hire workers to retrofit older developments with the next generation of energy efficient technologies.