Hudson Valley Housing Summit Focuses on Foreclosure
Albany, NY – July 24, 2009 – (RealEstateRama) — Commissioner VanAmerongen participated in the third annual Patterns for Progress Housing the Hudson Valley Conference, held recently at Marist College in Poughkeepsie. Residents, community leaders, bankers, and real estate professionals gathered for a discussion of housing issues facing the Hudson Valley.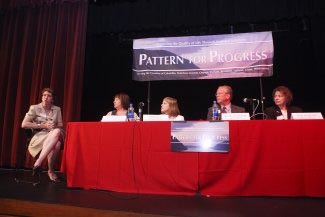 Featured speakers included the Commissioner and Dr. Robert Burchell, Co-Director of the Center for Urban Policy Research at Rutgers University and author of The Cost of Sprawl Revisited.
"Pattern's annual housing conference presents a unique opportunity for municipal planning and zoning board members, developers, bankers, realtors, and a variety of other housing, civic, and business leaders to survey the housing landscape together and collaborate on the region's priorities," said Marjorie Rovereto, president of Ulster Savings Bank.
The foreclosure crisis dominated the conference agenda, and Commissioner VanAmerongen addressed New York's efforts to prevent foreclosures and help homeowners take advantage of mandatory settlement conferences and free counseling and legal services available through the state-urging homeowners to reach out early for help.
"You don't even have to be in a particular stage in the foreclosure process," the Commissioner said. "If you're just concerned about your ability to make your mortgage payments, start talking to a counselor. The earlier you get in, the better off you are going to be." Commissioner VanAmerongen directed homeowners to DHCR's toll-free foreclosure prevention hotline: 1-866-760-3745 and the state Banking Department's Helpline: 1-877-Bank NYS for assistance.
In 2008 DHCR's Foreclosure Prevention Program funded counselors and legal service providers in every county of the state to help homeowners facing default or foreclosure. The agency awarded 64 grants totaling $23,201,600 to organizations in each of the state's 62 counties. In addition, DHCR contracted with NeighborWorks America to provide training to counselors, and Empire Justice Center to provide training to attorneys.
Gail Webster, executive director of Hudson River Housing, which provides foreclosure-prevention counseling in the mid-Hudson, said that her office gets the largest number of calls from Poughkeepsie, Middletown and Newburgh.
Gail participated in a panel of local experts discussing issues such as foreclosure prevention and rental market trends. Other participants included: Sadie McKeown of the Community Preservation Corporation, Kevin O'Connor of the Rural Ulster Preservation Company, Alice Dickinson of the Orange County Rural Development Advisory Corporation, and Gerri Levy of the Rockland Housing Action Coalition.
Other conference panelists included:
Judith Calogero, CEO of New York Housing Conference
Stephen McCulloch, Director of Houlihan Parnes Realtors and President of Building Realty Institute
Richard J. Smith of R.J. Smith Realty
Larry Wolinsky of Jacobowitz & Gubits