New York, NY – June 10, 2010 – (RealEstateRama) — On Wednesday, June 2, 2010, New York City Department of Housing Preservation and Development Commissioner Rafael E. Cestero, Department of Homeless Services Commissioner Seth Diamond, Bronx Borough President Ruben Diaz, Jr., and Common Ground will hold the official opening and ribbon-cutting ceremony for The Brook at 455 East 148th Street in the Bronx.  The 190-unit, $43 million building will expand the extensive portfolio of supportive and affordable housing that Common Ground provides in the New York metropolitan area.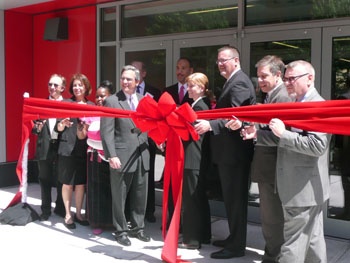 The Brook was developed under the City's New Housing Marketplace Plan (NHMP), which was launched by Mayor Michael R. Bloomberg in 2003.  The Plan, to build or preserve 165,000 units of affordable housing by 2014, has resulted in more than 100,000 units financed to date. Through contracts such as High Needs 2, New York New York III, and other supportive housing initiatives, the City has financed nearly 3,100 units of supportive housing since 2005.
"This is our first building in the Bronx," said Tim Marx, Executive Director of Common Ground.  "Like all of our housing, it will act as a catalyst for community revitalization while also supporting our mission to end homelessness." 
Within The Brook, 120 units are reserved for formerly homeless adults, including those with special needs, and 70 units are reserved for low-income single adults from the South Bronx.  Common Ground's service partner, BronxWorks (formerly Citizens Advice Bureau), will provide on-site social services through a team of social workers and other professionals
Says BronxWorks Executive Director Carolyn McLaughlin, "We are  pleased to join forces with Common Ground in this very important venture.   The Brook represents the next step in our comprehensive approach to eliminating street homelessness in the Bronx." 
Later this year, Common Ground will also celebrate the opening of two additional buildings that it developed to provide supportive housing — in Brownsville, Brooklyn and on the Lower East Side of Manhattan, adding 335 more units of affordable housing, for a total of more than 2,700 units created or managed by Common Ground in New York City.
"I am pleased to see yet another green building open in our borough," said  Bronx Borough President Ruben Diaz Jr. "The Brook will bring together a wonderful mix of working people, the formerly homeless and others with special needs in independent, supportive housing in this beautiful LEED Silver building that was achieved through a $500,000 capital grant from my office.  It is buildings like this that help assure The Bronx is the 'greenest borough.'  Common Ground's track record of developing innovative housing for our neediest residents throughout the New York metropolitan area is why we are proud to have Common Ground in The Bronx."
"For the formerly homeless who are working to put their lives back on track, the necessity of a safe, stable and affordable home can not be overstated," said HPD Commissioner Rafael E. Cestero. "Wrapped in a supportive environment with the resources and the assistance these individuals need to reach their true potential, the Brook  is a safe haven where second chances can begin in earnest. Today's ribbon cutting is the manifestation of our Administration's investment in the future of these tenants and this City – one that will serve to strengthen the community and pay dividends well into the future. Thanks to the support of DHS, and partners like Common Ground and BronxWorks we are able to continue our mission of creating a stronger, more diverse, and sustainable New York."
"The Brook will further our goal to help more individuals return to independent living," said Homeless Services Commissioner Seth Diamond. "Through this supportive housing facility clients will be able to receive the services needed to develop important life skills, gain confidence and move towards self-sufficiency. Common Ground has been a pioneer in the development of supportive housing and along with BronxWorks a leader in the fight to end homelessness- both equipping individuals with the resources necessary to live with dignity and independence in the community.  We are proud to partner with them in their efforts."
Brian Lawlor, President and CEO of the NYS Housing Finance Agency and Commissioner of the NYS Division of Housing and Community Renewal, said, "We are very proud to join with Common Ground and our partners in the State and City to finance the Brook Avenue Apartments. Providing affordable housing for the homeless is one of top housing priorities of the Paterson administration and we are honored to finance the 189 housing units that have been created at Brook Avenue."
Total development cost for the project was $43,275,653.  HPD provided a $17,100,000 low-interest loan (HOME & HOPWA funding).  The Bronx Borough President's office also provided a $500,000 award to fund green construction.  The NY State Housing Finance Agency (HFA) provided $22,300,000 in tax-exempt bond financing during the construction period.  The letter of credit bank during construction was Bank of America.  JP Morgan Capital Corporation provided permanent financing of $18,205,555 in 4% low income tax credit equity.  Other sources of funds included NY State Homeless Housing Assistance Program (HHAP), Federal Home Loan Bank Affordable Housing Program, Common Ground green contribution, and deferred developer's fee. 
The new, 90,000-square-foot building boasts a 2,400-square-foot community event space available to neighborhood residents and organizations, a large courtyard garden, computer lab, fitness room, on-site laundry and 24-hour security.  Environmentally sustainable features include a green roof, a state-of-the-art high efficiency building management system to control temperature, light and motion sensors, low-VOC paints and materials and high-efficiency boilers.
The building architect is Alexander Gorlin Architects; the general contractor is Mountco Construction and Development Corporation.
 
The Bronxchester community, where the Brook is located, is the site of a number of new affordable housing projects funded by HPD and the City's Housing Development Corporation (HDC). Overall, in the Bronx, under Mayor Bloomberg's New Housing Marketplace Plan, 31,779 affordable housing units have been financed, including 5,604 in Community District 1, where The Brook is located. Of these affordable units, 5,099 are homeownership and 26,680 are rentals. A total of 15,488 of the units in the Bronx are newly constructed, including The Brook.
# # #
About Common Ground:
Common Ground is a nationally respected leader in efforts to end homelessness and one of the largest developers and managers of supportive housing in the nation.  It also operates, under contract with the NYC Department of Homeless Services, outreach programs that target people living on the streets in parts of Manhattan and all of Brooklyn and Queens.  Under the leadership of Common Ground Founder and President Rosanne Haggerty, the organization now also operates nationally and includes a comprehensive homelessness prevention program in Brownsville, Brooklyn.  For additional information, visit www.commonground.org.
Abound BronxWorks:
The mission of BronxWorks is to help individuals and families improve their economic and social well-being.  From toddlers to seniors, we feed, shelter, teach, and support our neighbors to build a stronger community.  Formerly the Citizens Advice Bureau, the organization has worked with  homeless populations  since 1989.  BronxWorks has been the driving force behind the 70% reduction in the number of street homeless individuals in the Bronx between 2005 and 2010, making the borough the only one to exceed Mayor Bloomberg's target.   City, state, and federal officials have lauded  the success of BronxWorks  in helping this population  move from street to home.  For more information, visit www.bronxworks.org.
About Mayor Michael R. Bloomberg's New Housing Marketplace Plan:
New York City's affordable housing program to build or preserve 165,000 units of housing — enough to house half a million New Yorkers — is the most ambitious and productive in the nation–creating housing as well as jobs for New Yorkers. In April, 2010 the City reached the critical benchmark of 100,000 units financed–representing an investment of $4.5 billion to date by the City, not including roughly $5 billion in bonds issued by HDC.
Led by HPD Commissioner Rafael E. Cestero, the Plan has been recast to maintain production momentum while confronting head-on the economic challenges facing the City, the State, the housing industry, the financial sector and individual New Yorkers and their families. In order to fulfill the NHMP goal of 165,000 units, HPD and the NYC Housing Development Corporation (HDC) are responding to market realities and focusing on three primary goals: strengthening neighborhoods, expanding the supply of affordable and sustainable housing and stabilizing families by keeping them in their homes. To read more about the NHMP, please visit http://www.nyc.gov/html/hpd/html/about/plan.shtml.  
About the NYC Department of Housing Preservation and Development (HPD):
HPD is the nation's largest municipal housing preservation and development agency. Its mission is to promote quality housing and viable neighborhoods for New Yorkers through education, outreach, loan and development programs and enforcement of housing quality standards. It is responsible for implementing Mayor Bloomberg's New Housing Marketplace Plan to finance the construction or preservation or 165,000 units of affordable housing by 2014. Since the plan's inception, more than 100,000 affordable homes have been created or preserved. For more information, visit www.nyc.gov/hpd. 
About the NYC Department of Homeless Services (DHS): 

DHS prevents homelessness wherever possible and provides short-term emergency shelter and re-housing support when needed.  These goals are best achieved through partnerships with those we serve, public agencies and the business and nonprofit communities.  By working in partnerships, Homeless Services finds that it can best assist low income New Yorkers eligible for our services.  Under Mayor Bloomberg's leadership, the Department of Homeless Services has placed over 238,000 individuals into permanent housing. For more information, visit www.nyc.gov/dhs.
Media Contact-Common Ground
Julie Hendricks-Atkins 
Geto & de Milly, Inc.
212.686.4551
jhendricks-atkins (at) getodemilly (dot) com  

In-house Common Ground Contact
Lyle Churchill
212.389.9323
lchurchill (at) commonground (dot) org
HPD Contact
Eric Bederman
212-863-5176
bedermae (at) hpd.nyc (dot) gov
DHS Contact
Heather Janik
(212) 361-7973
hjanik (at) dhs.nyc (dot) gov