Apollo Says "Generous" Grant From Harlem CDC Community Initiative Fund Helped Make "Walk" Possible
May 13, 2010 – (RealEstateRama) — The Harlem Community Development Corporation (Harlem CDC) was lauded for its support of the Apollo Theater Foundation's "Walk of Fame" project at its unveiling on Monday.
With Harlem CDC board member Congressman Charles B. Rangel, Harlem CDC President Curtis L. Archer and Harlem CDC Director of Residential Development Wayne Benjamin looking on, Apollo Theater President and CEO Jonelle Procope thanked Harlem CDC for the initial $75,000 grant that kicked off fund-raising for the project.
The Apollo premiered the new "Walk of Fame," located in the sidewalk under the Theater's iconic marquee, to honor legendary performers whose fame is linked to the internationally known venue. The first plaques to be installed pay tribute to renowned entertainers previously inducted into the Apollo Legends Hall of Fame: James Brown, Quincy Jones, Patti LaBelle, William "Smokey" Robinson, Gladys Knight and the Pips, Little Richard and Ella Fitzgerald.
"The Walk of Fame is our way of paying tribute to the Apollo Legends who have forever altered the American entertainment landscape," said Procope.
"Harlem Community Development Corporation was pleased to provide a grant supporting the Walk of Fame," said Harlem CDC President Curtis L. Archer. "The Apollo is already one of Harlem's most famous landmarks and I'm confident that the Walk of Fame will attract even more tourists and Harlem residents to explore the history of this international treasure in our community," Archer added.
Plaques honoring new Apollo Legends Hall of Fame inductees Michael Jackson and Aretha Franklin will be installed after the Apollo's Spring Gala in June, kicking off a new annual event in its almost 76-year history.
Harlem CDC supports the Apollo's pivotal role in the economic development of Upper Manhattan in general and the commercial hub of 125th Street in particular. Harlem is the third most popular tourist destination in Manhattan, drawing 1.3 million visitors annually. The Apollo is Harlem's premiere attraction. Domestic and international tourists comprise 42 percent of the theater's audience, representing nearly 260,000 visitors drawn to Harlem to add revenue to large and small businesses along the 125th Street corridor.
Harlem Community Development Corporation, a subsidiary of Empire State Development Corporation, serves the greater Harlem community through planning and implementing a range of community development and revitalization initiatives for restoring Upper Manhattan as an economically stable and culturally vibrant community. The Board of Directors of Harlem CDC established the Community Initiatives Program in 1991 to make grants and loans to community-based organizations to assist feasibility, planning or design studies related to future economic development projects.
For more information on Harlem CDC and its economic development and urban planning initiatives visit www.harlemcdc.org.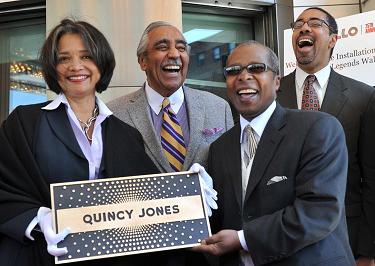 Apollo Theater President & CEO Jonelle Procope, Rep. Charles B. Rangel, Apollo Ambassador & Tour Director Billy Mitchell and Harlem CDC President Curtis L. Archer with plaque honoring Quincy Jones at Apollo "Walk of Fame" unveiling.
Contact:
Leon Wynter (HCDC) | lwynter (at) empire.state.ny (dot) us | 212-961-4347 www.harlemcdc.com
ESD Press Hotline | 1-800-260-7313