Albany, NY – March 2, 2010 – (RealEstateRama) — DHCR participated recently in the Consumer Protection Board's (CPB) Annual Consumer Action Day at the Empire State Plaza in Albany. The event was marked by the launch of NeighborWorks America's Loan Modification Scam Alert Campaign, designed to provide homeowners facing foreclosure with vital information to guard against foreclosure scams.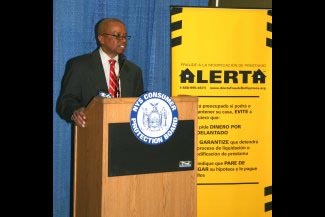 The campaign gets underway at a time when the national foreclosure rate is at an all-time high of 8.85 percent and the rate in New York is close to 7.78 percent. Many homeowners are lured by the advertising and sales pitches of scam artists who pressure homeowners, make false promises to rescue homes, and ultimately swindle people out of money.
DHCR Acting Commissioner Brian Lawlor said, "DHCR has funded housing counseling services in every part of the state and we urge homeowners with subprime mortgages to reach out at the first sign of trouble and to be wary of anyone who charges a fee or promises quick results."
Assistant Commissioner Greg Watson participated in the press conference announcing the campaign. He thanked Mindy Bockstein, Chairperson and Executive Director of CPB, NeighborWorks America, and Empire Justice Center for partnering with state agencies like DHCR to put homeowners on alert.
The campaign builds on Governor Paterson's landmark Subprime Lending Reform Law of 2008 and comprehensive foreclosure prevention legislation enacted last year that expands notice to homeowners, requires mandatory settlement conferences for borrowers. Governor Paterson said, "The laws we passed in New York have stood as a national model for foreclosure mitigation."
New Yorkers who think they may be at risk of foreclosure can find a list of free professional housing counselors at: http://nysdhcr.gov/Programs/ForeclosurePrevention/CounselListing.htm.
For more information on the loan modification alert campaign or to report a scam, visit: www.loanscamalert.org or call 1-888-995-HOPE (4673).