City's new target for solar capacity set to 1,000 MW by 2030 ' enough to power more than 250,000 households.
City currently has 2,700 solar related jobs and will work to grow that number
Also sets NYC's first energy storage deployment target of 100 MWh by 2020 to support resiliency during outages
NEW YORK – (RealEstateRama) — In celebration of Climate Week, Mayor Bill de Blasio today announced that solar capacity has nearly quadrupled since the start of his Administration, and will provide 96 MW of electricity, compared to 25 MW at the beginning of the de Blasio Administration.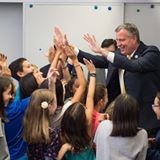 New York, NY – (RealEstateRama) — The Department of Buildings will issue permits for more than 3,000 solar panel installations this year alone and that will bring the citywide total to more than 8,000 installations in 2016. That is an increase from 1,819 installations at the start of the administration. This solar growth puts the City on track to meet its OneNYC goals of installing 100 megawatts (MW) of solar power on public buildings and spurring the installation of 250 MW on private buildings by 2025.
Because of the role these targets play in catalyzing the city's solar market, Mayor de Blasio announced an expansion of the City's 2025 commitment to identify and remove barriers to solar adoption in order to facilitate over '1,000 MW of citywide solar capacity by 2030. 1,000 MW of solar capacity can meet the power needs of more than 250,000 households.
To ensure this renewable energy is available consistently, the Mayor also committed to the City's first ever energy storage deployment target ' 100 megawatt-hours (MWh) by 2020. One MWh is the amount of energy produced by a 1-MW power source, such as solar panels or wind turbines, operating continually over an hour. This target will help reduce reliance on the grid by making variable sources of energy production, such as solar panels, usable for more of the day. Energy storage also helps increase the City's resiliency by providing backup energy when the grid is offline.
With already more than 2,700 solar jobs in the city, the expanded solar capacity target will enable high-paying local job opportunities and solidify the city's position as a leading solar job hub in the northeast while extending access to clean energy for communities throughout the city. This solar target is an important step in fostering a dynamic and inclusive economy, and to develop an industry with a significant potential for new jobs and initiatives that provide more just environmental outcomes for all New Yorkers. Through an unprecedented emphasis on community energy solutions, the City will work to identify areas for community shared solar installations that enable renters and those without suitable rooftops to become solar adopters as well.
'As part of our OneNYC plan, and in order to meet our 80 x 50 goal, we made a commitment to install 100 MW of solar power on public buildings and 250 MW on private buildings by 2025,' said Mayor Bill de Blasio. 'I am happy to announce we're on track to meet that goal having quadrupled solar capacity since 2013. This rapid progress has inspired us to expand that goal to 1,000 MW of solar power citywide ' which has the potential to power more than 250,000 homes. There's only one New York, and we must do everything we can to ensure it's protected for future generations.'
'Two years ago, New York City became the largest city on the planet to commit to meeting an 80 percent reduction in greenhouse gas emissions by 2050.  And every day, we are pushing forward with the policies and investments that will be necessary to meet this aggressive and necessary goal.  One key approach has been setting aggressive targets, as we did with solar power, and working across agencies to meet those targets,' said Daniel Zarrilli, NYC's Senior Director for Climate Policy and Programs and Chief Resilience Officer.  'Today, we are excited to announce that solar power capacity has nearly quadrupled since 2013, driven by the City's regulatory reform and smart investments.  And we are pleased to build on this success now by expanding our commitment to powering the city with solar energy, and recognizing the role that energy storage will play in our future and supporting the growth of this critical technology with additional reforms.  These investments in renewable energy ' part of our OneNYC program ' are helping us to build a more sustainable, more resilient, and more equitable city.'
'The exponential growth of solar in New York City has been fueled by the largest mayoral commitment in the country that sets direction for the actions of the NYC Solar Partnership,'said Tria Case, University Director of Sustainability at CUNY, and lead for the NYC Solar Partnership.'Solar+Storage offers opportunities to add resiliency and confront climate change. The Smart DG Hub, led by Sustainable CUNY, is working with the mayor's office to connect stakeholders and to lay the pathway to the storage market in NYC and is proud to support these new and important, industry transforming storage goals."
'Good environmental policy is good economics,' said NYCEDC President Maria Torres-Springer. 'By quadrupling installed solar in the city and adopting ambitious solar and storage targets, we continue to support New York's growing climate economy, while decreasing the cost of solar for communities and working toward a more sustainable future.'
'The exponential growth in solar installations during this Administration is encouraging for the future sustainability of our City, and is pivotal to realizing an 80 percent reduction in emissions by 2050,' said Building Commissioner Rick Chandler. 'Mayor de Blasio's investment in reforming the Department of Buildings allowed us to streamline the solar application process, reducing wait times and costs, and helping to incentivize more New Yorkers to incorporate this renewable energy technology into their buildings.'
'The FDNY is committed to working closely with the Department of Buildings to meet Mayor de Blasio's goal of creating a more sustainable and energy efficient city through increased solar power use on buildings, businesses and homes,' said Fire Commissioner Daniel A. Nigro. 'In addition to ensuring the safe expansion of renewable energy use for New Yorkers, the Department continues to reap the benefits of solar power as well by incorporating solar heating systems into FDNY Firehouses and EMS Stations citywide.'
'DCAS is proud to be a part of Mayor de Blasio's commitment to bring clean, renewable, and resilient energy to New York City,' said Commissioner of the Department of Citywide Administrative Services Lisette Camilo. 'With these ambitious solar and energy storage targets, DCAS will continue to lead by example and expand our solar PV and battery installations at schools, hospitals, offices, and other municipal facilities throughout the five boroughs.'
'Clean energy is absolutely necessary as we work to create and maintain a sustainable environment for the City of New York,' said NYC Parks Commissioner Mitchell J. Silver, FAICP. 'As New York's Greenest, NYC Parks is proud to be a part of this effort. Thanks to solar heating and power installations at Parks facilities across the boroughs ' as well as our partnership with state-of-the-art solar-powered Soofa Bench ' we are already exceeding our 80/50 commitment to carbon reduction.'
'As one of the nation's largest cities, New York must lead in harnessing solar energy,' said Manhattan Borough President Gale A. Brewer. 'New York was recently ranked only 37th among the nation's cities in solar capacity adjusted for population, so it's welcome news that we've dramatically increased our capacity over the last three years but it's clear we need to forge ahead ambitiously and build on that progress."
'In my travels throughout Staten Island, I am gratified to see more and more rooftop solar installations.' It tells me that people are paying attention, and even if sustainability is not the first thing on our collective minds, it is an economically sound approach that will yield a healthier and cleaner future for Staten Island, New York City and the United States,' said Staten Island Borough President James Oddo.
"With this investment in solar capacity our future is brighter than ever," said Council Member Stephen Levin. "New Yorkers will benefit from more green jobs, an increasingly resilient power grid, and a steady march towards a sustainable tomorrow. OneNYC's results demonstrate protecting the environment and fostering economic vitality are not mutually exclusive."
Council Member Costa Constantinides, Chair of the Council's Committee on Environmental Protection, said, "I am proud that we have reached a total of more than 8,000 solar installations in 2016, which will bring us closer toward our goal of reducing carbon emissions 80% by 2050.   Reaching this milestone in solar capacity also includes over 2,700 solar jobs in our city.  With the expanded installations and new green jobs continuing to become available, our city has become a role model for others throughout the world to follow.  I commend Mayor de Blasio for his bold vision for our city's environment during this Climate Week."
'Con Edison supports the Mayor's ambitious environmental targets and looks forward to working with the city on reaching its goals,' said Matthew Ketschke, Con Edison's vice president of Distributed Resource Integration. 'We are actively working with government agencies and the solar industry to encourage  more solar development.  To this point, our New York City customers have completed more than 6,500 solar projects, producing about 80 megawatts (MW) of clean renewable power. We're the fifth-largest solar developer nationwide, and we've reduced our carbon footprint 48 percent since 2005, equal to taking half a million vehicles off the road.'
"'New York City's new solar and energy storage goals will bring even more clean energy jobs, cleaner air, and electric system benefits to the Big Apple, and will help us get the most out of our solar resources," said Donna De Costanzo, Director of Northeast Energy and Sustainable Communities at the Natural Resources Defense Council."New York City continues to lead the way on securing a more sustainable and resilient community for future generations."
'Increasing the use of solar power has countless environmental, health, and economic benefits. Mayor de Blasio's new goal for 2030 will make the electric system more efficient, create more local jobs, and reduce pollution to help New York City turn the corner on climate change,' said Rory Christian, Director, New York Clean Energy at Environmental Defense Fund.
'Mayor de Blasio's continued and expanded commitment to powering the city with solar is positioning New York to lead the nation in both addressing climate change and transitioning to a clean energy economy,' said Adam Browning, Executive Director of Vote Solar. 'New York City's commitment to solar is an investment in local health, local resiliency, and local jobs fit for the 21st century economy.'
'Solar energy has seen spectacular growth across New York State under Governor Cuomo's NY-Sun initiative.  From Solarize campaigns which help communities reduce solar project costs through joint purchases to Shared Solar which allows renters to participate in solar, the State is committed to ensuring solar is a viable option for all New Yorkers,' said John B. Rhodes, President and CEO, New York State Energy Research and Development Authority. 'New York State is also investing in storage and supporting research and development that will help the State reach its 50 percent mandate for all electricity consumed to come from renewable energy sources by 2030.  As part of these efforts, we are pleased that New York City residents and businesses are taking advantage of clean energy opportunities which are allowing the City to realize its ambitious solar growth goals."
"We applaud Mayor de Blasio for his commitment to increasing the city's solar capacity as part of his 80 by 50 goal set forth in OneNYC. The City is leading the charge on solar by increasing installations on public buildings such as schools and initiatives like Solarize NYC, which helps make sure solar is accessible to everyone," said Marcia Bystryn, President of the New York League of Conservation Voters.
In 2014, the City made a commitment to spur the growth of solar energy in New York City on both public and private buildings, including through community-led shared purchasing, regulatory advocacy, and other support ' a key step towards the Mayor's goal of reducing greenhouse gas emissions 80 percent by 2050.
Thanks to programs like Solarize NYC, which has increased solar capacity in communities that have historically had limited access to solar, and the Solar Schools Initiative, which is helping over 100 schools go solar, the City is on track to reach its OneNYC commitment to solar.
In addition, the Department of Buildings has adopted a number of reforms to streamline its permitting process for solar projects ' greatly reducing the wait time for approval of solar panel installations.
To streamline solar panel job reviews, DOB redesigned the approval process by:
Allowing small scale solar installation projects to enter the Professional Certificationprogram;
Hiring additional plan examiners; and
Providing additional examiner training focused on solar panel installation jobs
In response to a spike in solar panel installations in 2014 ' totaling nearly 2,200 jobs, up from 662 in 2013 ' DOB began to implement reforms to meet the increased demand. This resulted in the average review time for solar jobs dropping from nearly five weeks in 2015 to just over one week in 2016. By allowing low-risk, small solar installation jobs to enter the Professional Certification program, nearly two-thirds of New Yorkers who invested in solar received project approvals in less than a day.
The Fire Department (FDNY) has also responded to rapid growth in solar demand, releasing guidelines to clarify how rooftop solar panels can be safely installed within the requirements of the Fire Code. Earlier this year, FDNY also revised the threshold used to distinguish flat from sloped roofs, which immediately increased the solar potential on approximately 5000 rooftops citywide.
Staten Island has the most to date, with 3,493 solar installations completed, an increase of more than 600 percent relative to pre-2014, and a total capacity of 30.3 MW. Queens is next in terms of cumulative installations at 1,703, as well as growth relative to pre-2014 levels (275%) and installed capacity (18.5 MW) and growth in installations. Brooklyn and the Bronx and Manhattan have each contributed and grown solar power as well.
Private Solar
Private solar installations are rapidly expanding in all five boroughs, with installed capacity of 69 MW, up from 24 MW at the end of 2013.
Staten Island continues to lead the private solar market with 30 MW installed.
Separately, there are currently 2,238 private solar projects scheduled to be installed, which will add 17 MW of additional capacity.
The City has expanded funding for Solarize NYC, a citywide program designed to further increase access to solar through community group purchasing campaigns over the next nine years, which is expected to lower costs by 10 to 20 percent and increase solar capacity in communities that have historically had limited access to solar. The NYC Solar Partnership will work alongside up to eight communities each year to design a Solarize NYC campaign that will include: technical assistance from solar ombudsmen; funding support for marketing materials and staff time; and marketing and outreach plans that are tailored to the needs of their community
The Solar Partnership has also launched Shared Solar NYC, a program to match developers with rooftop owners that can host large 'shared solar' installations and offer subscriptions to shares of the project's energy output to renters and homeowners without suitable roofs. Learn more about Solarize NYC and Shared Solar NYC on theNYC Solar Partnership webpage.
The NYC Solar Partnership is led by Sustainable CUNY of the City University of New York, which works collaboratively with the New York City Mayor's Office of Sustainability and the New York City Economic Development Corporation to promote an equitable and self-sustaining solar market in pursuit of the Mayor's goal of increasing solar capacity around the city.
Public Solar
The City is also leading by example, with more than double the solar installed in public buildings compared to last year. Nearly 9 MW of solar is now installed on public buildings, including City Hall, 35 schools, and major facilities like the Port Richmond Wastewater Treatment Plant.
In addition to about 7 MW of solar installed to date on 35 public schools, 66 schools have solar projects underway. These 101 systems will ultimately produce about 20 MW of electricity and reduce 7,184 metric tons of CO2 emissions each year.
Installing solar on City schools offers excellent educational opportunities for students, with more than 140 teachers receiving training in the development of a solar curriculum. The City is also working to assess additional workforce development opportunities with our partners in labor in connection with its solar installation program.
By the end of 2016, DCAS will release a report on the solar potential of all City-owned buildings 10,000 gross-square feet or larger, as well as the solar PV installation progress to date.  The City is also working to incorporate resiliency benefits into solar PV installations.  Where possible, solar PV installations will be paired with energy storage systems to provide peak load shaving, emergency backup power and to help reach the new citywide 100 MWh energy storage target by 2020.